Accounting Software Overview
WoodPro InSight transforms your finance department into an administrative cost-center - one that provides deep operational insight and measures results efficiently in real-time for companies in the lumber and building materials industry. The suite automates and streamlines all your financial business processes, improves operations, and reduces costs. A unified system provides a single, accurate view of all your accounting information. WoodPro began with accounting applications and takes them very seriously. Robust reporting, plus tight internal controls strengthen financial discipline and ensure the highest level of business analysis and governance of best practices.
The system features a comprehensive financial management suite that consists of three accounting modules, which functions as the backbone of our entire ERP system.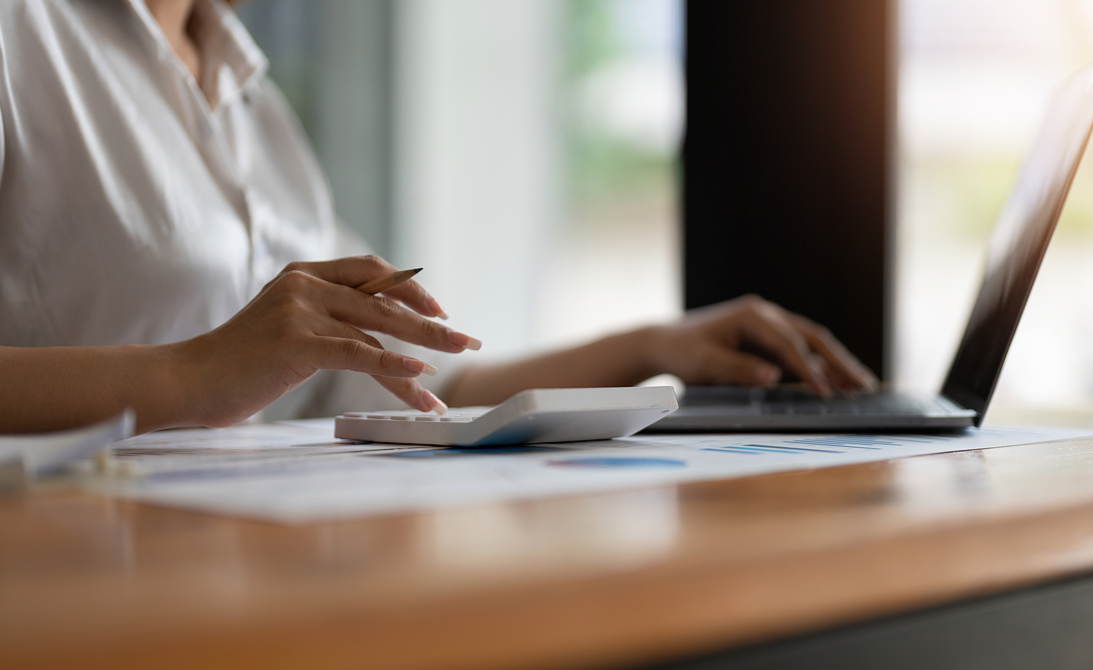 General Ledger
Drill-Down capabilities for transactional and analytical inquiries
Comprehensive allocations from any ledger to multiple accounts facilitates efficient monthly closing
Multi-entity consolidation and reporting for multiple legal company identities
Automatic bank account reconciliation is facilitated by integration with bank statements
Accounts Receivable
Electronic invoicing and statements to customers shortens outstanding collection days
Debt management tools assists with cash flow optimization
Trader analysis is available to track profitability, as well as trader's and salesperson's effectiveness
Commission structure that is comprehensive and customizable
Accounts Payable
Cash management can be done through a wide range of payment options, including electronic funds transfer (EFT)
Multiple currencies processing throughout the different modules facilitates global transactions
Useful inquiry and reporting capabilities reduce costs by helping to ensure invoices get paid within the vendor discount period
General Ledger Module
The General Ledger module is seamlessly integrated to other WoodPro InSight ERP Software modules. The tight integration helps drive better decision-making, regulatory financial compliance, and optimization of business processes at the lowest cost for wholesale distributors, lumber yards, LBM distributors, retailers, pro lumber dealers, sawmills, importers, exporters, wood treaters, and manufacturers of lumber and building materials. Other benefits are listed below: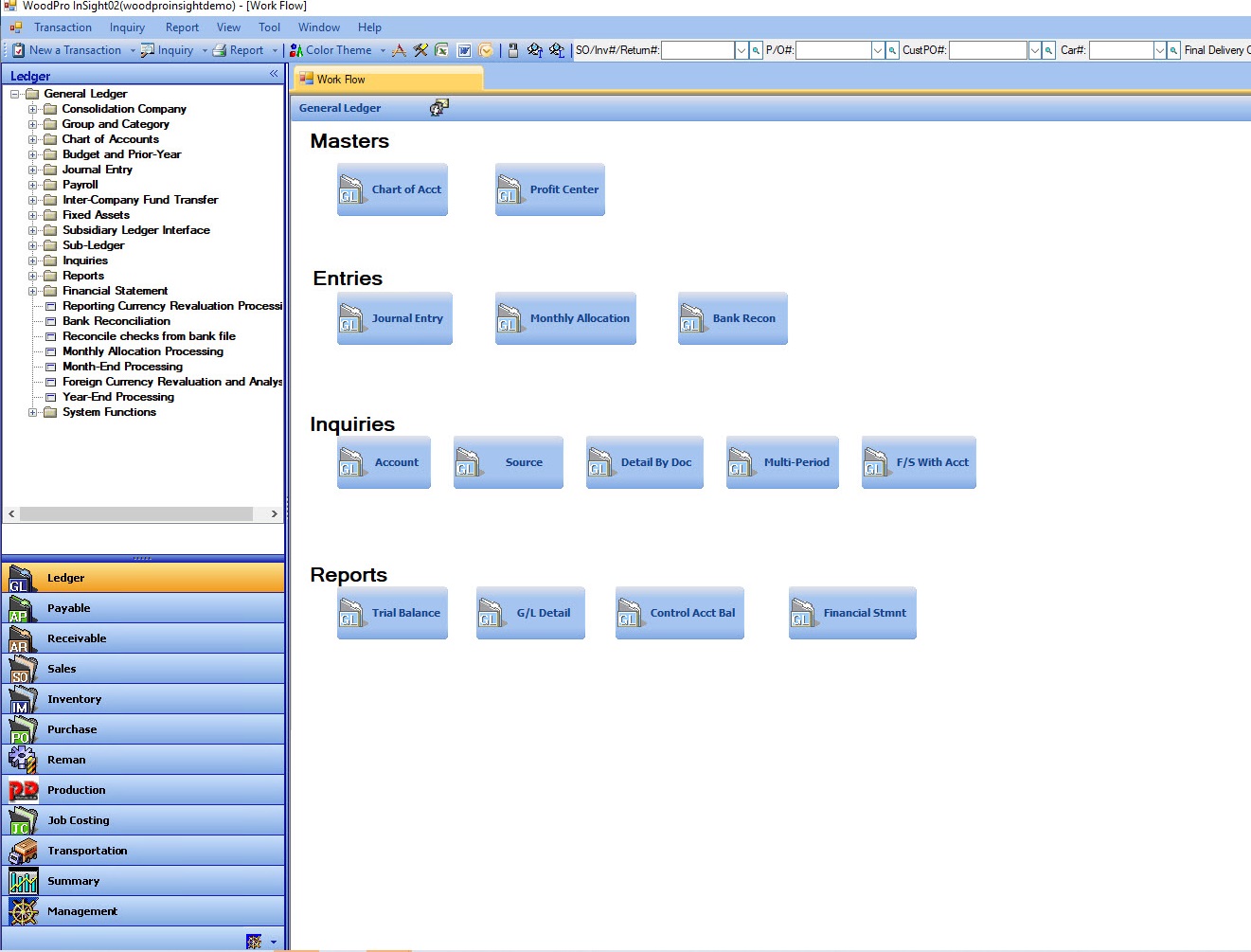 User Workflows and Menus are available to control access and security, as well as promote ease of use on an individual level.

Over three decades of developments and enhancements to support the demands of your organization.

Easy data look-up functions, along with comprehensive "drill-down and around" capabilities that link to originating documents facilitate transactional and analytical inquiries.

Robust user security features enable administrators to maintain control and provide access to the right people, delivering the financial integrity you need and trust.

Multi-currency functionality for global operations.

Multi-entity consolidation and reporting for multiple legal company identities.

Electronic bank statement integration facilitates automatic bank account reconciliation.

Financial reporting gives you the flexibility to compare performance against budgets by branch/organization unit and profit/cost center.

Comprehensive allocations from any ledger to multiple accounts is available for more efficient closing.
General Ledger Module Features
Chart of Accounts
Define multiple reporting elements, including profit centers, branches and reporting centers. The accounts with user defined sub-ledger accounts compliment the financial analysis.
General Ledger Consolidation
Consolidate financial statements for multiple entities. It includes support for multiple currency conversions, multiple account periods, and modules consolidation across Local and Wide Area networks.
Sophisticated Inter-Company Transactions
Handles sophisticated inter-company transactions, including inter-company fund transfers, inter-company inventory transfers orders, inventory inquiries, sales, purchases, expenses, and cost allocations.
Inquiries & Reports
Documents audit trails, many inquiries (e.g. Account Inquiry, Document Inquiry, Source Inquiry, and Full Inquiry ) and reports can be printed. A variety of reports in both detailed and summarized formats can include Trail Balances, Worksheets and Working Papers.
Financial Statement Formatting
Custom design and print your own financial statements. Information can include budget or prior-year figures, variances, forecasts and notes.
Accounts Payable Module
WoodPro InSight's feature rich, enterprise Accounts Payable allows you to manage vendor relations, while streamlining the processes of entering invoices and making payments to improve efficiency and reduce costs. With WoodPro's Accrued Accounts Payable, you can streamline accruals processing workflow and collaborations between finance, purchasing and other operational units. The comprehensive vendor database records include multiple order-from for large national account management, sophisticated credit terms, different payment methods, specific remit-to locations and detailed supplier contact information. Through this, you can instantly drill down from vendor accounts payable transactions to the originating documents.
The software functions particularly well for Lumber and Building Materials companies and enable you to do the following:
Manage your cash position proactively through integrated payables and the many payment options including electronic funds transfer (EFT), and Automated Clearing House (ACH).

Distribute expenses automatically by using preset formulas.

Process multiple currencies throughout the system.

Make informed decisions by utilizing powerful inquiry and reporting capabilities that provide extensive visibility into performance.

Instantly transmit form documents that correspond to various business transactions like purchase orders to other parties involved using Electronic Data Interchange (EDI), XML and service-oriented architecture technologies.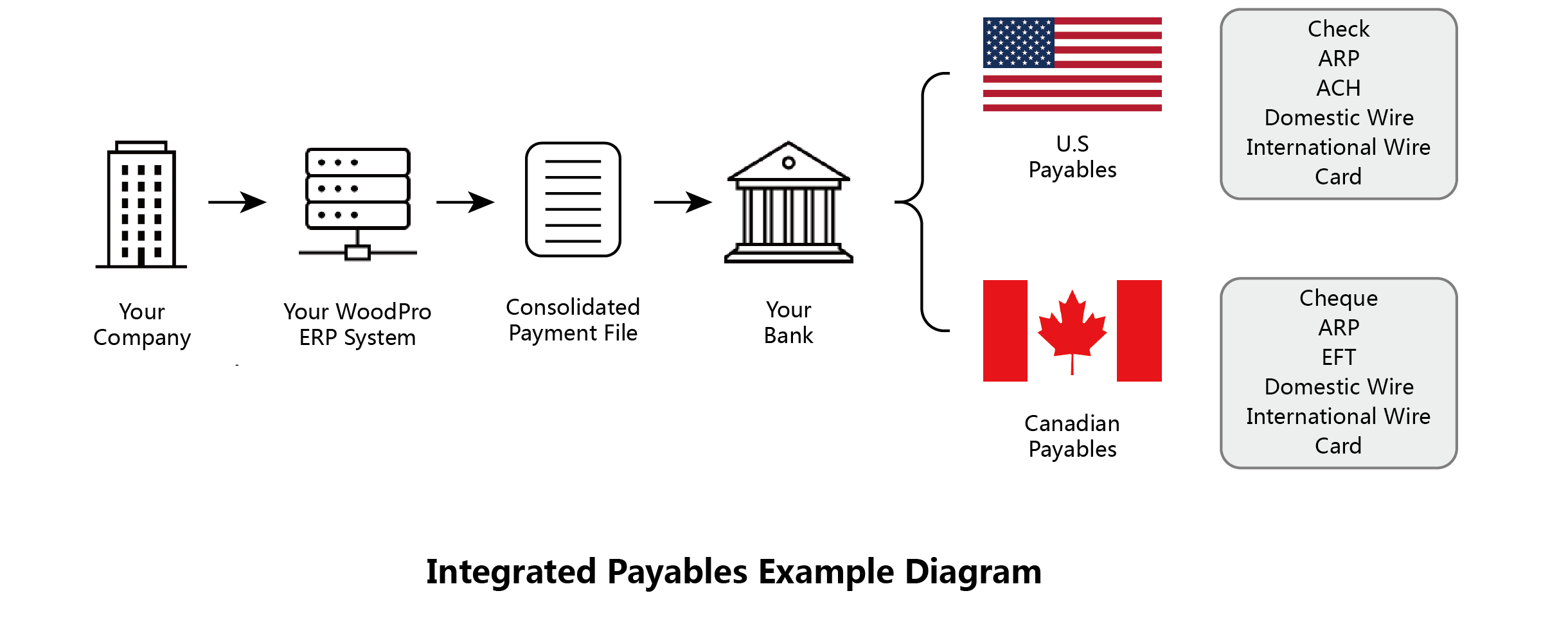 Additional Features:
| | | |
| --- | --- | --- |
| DAILY PROCESSING | INQUIRIES | REPORTS |
| Misc Supplier Invoice | Aged Payable Inquiry by Supplier | Aged Payable |
| Freight Accrued Payable | Payable Inquiry by Due Date | Ranking |
| EFT Processing | Accrued Payable Inquiry | Ranking Report by Supplier |
| Automated Clearing House | Display Accrued Payable Totals | Freight & Other Accrued Costs |
| Payable Adjustment | Check Register Inquiry | Inventory Supplier Accrual |
Accounts Receivable Module
WoodPro InSight's enterprise Accounts Receivable module is designed to meet the requirements of businesses in the Lumber and Building Materials Industry. It enables you evaluate and respond to the changing financial conditions, as well as streamline your receivables processes to accelerate collections, reduce credit risks, resolve exceptions quickly, and ultimately decrease your cost of working capital.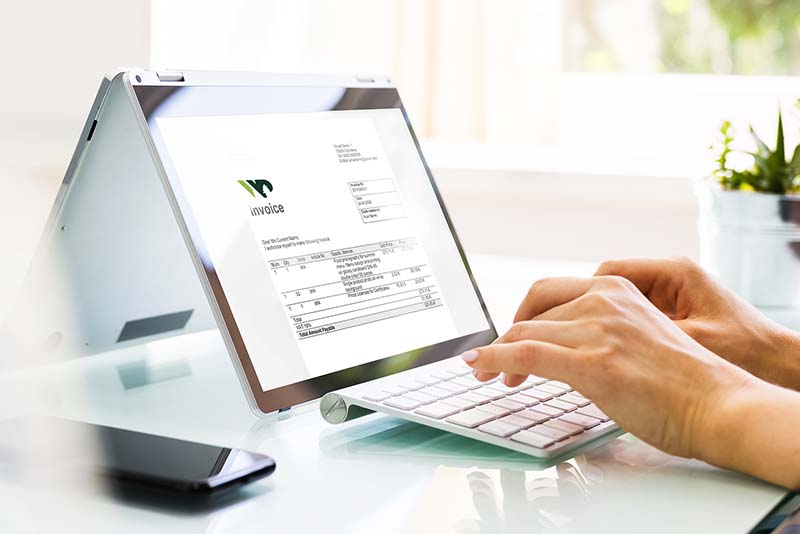 Accounts Receivables is often the largest asset on the balance sheet and is critical to the financial health of an organization. Many features are available for managing them:
Customer details regarding credit availability, aging limits, ship-to locations, and contact details are stored within the system for better internal and external collaborations.

Credit and Collection tools including payment trends, automatic reviews, account history, credit letters, etc. are integrated into the receivables process, providing you with effective debt management; thus, facilitating with cash flow management.

Electronic invoice and statements to customers shorten outstanding collection days.

Sophisticated trader/salesperson tracking and a comprehensive customizable commission structure have the features and flexibility to improve the relationships that help you generate revenue.

Trader analysis is available to track profitability, as well as traders and salespersons effectiveness.

Multi-currency support enables you to easily manage global transactions.

Customizable reporting help you identify internal versus external issues.
Accounts Receivable Module Features
Customer Master Maintenance
Contains additional information about the customers including terms, discounts, freight, sales, customer's aged receivable balance and other account information.
Aged Receivable Inquiry
(By Customer Or By Salesperson)
Displays detailed accounts receivable balance information. Information displayed can be posted/unposted only. Invoices, unpaid invoices, and payment history for each customer are kept.
Collection Notes
Shows collection diary with the following information: called and promised date, amount, date and amount received (updated automatically) and comments. Collection letters can be generated directly here using the word processing software built into the program.
Credit Management
Contains information critical to the credit granting and monitoring processes, and displays any and all credit remarks for a particular customer. There is unlimited space for remarks and over time, the diary history that is kept for each customer can be a valuable resource.
Credit Reports
Prints credit reports of customers who are over their credit limit by manager or salesperson, past due date exception report, and customers scheduled for credit review.
Additional Features:
| | | |
| --- | --- | --- |
| DAILY PROCESSING | INQUIRIES | REPORTS |
| Short Paid Inquiries | AR Summary | Aged Receivable Report |
| Print Unauthorized Deduction Letter to Customers | Receivable Open File | Customer Ranking |
| Print Unearned Discount Letter to Customer | Receivable Cash Receipts | Margin Report by Salesperson |
| Print Balance Due Management Report | Customer Short | Sales Analysis |