Client Prioritized Developments
During the past three decades, the software market has been dominated by Commercial Off-the-Shelf (COTS) products that offer a myriad of functionalities at a reasonable price. This is indeed the primary model of WoodPro Software Inc. The logic is quite simple - the cost of development of the off-the-shelf product is distributed over a number of buyers, since the pricing is spread over the number of licenses that will be sold. One might think that if the option of an off-the-shelf software product is available, why would one go for a customized development?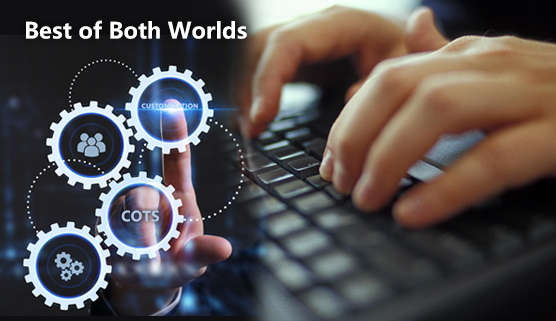 Build Enhancements Back into the Core COTS: Ready to use COTS product may not be catered to the exact requirements of your organization. Usually, some adjustments would be needed in order to implement a typical off-the-shelf product. With WoodPro, the logic of spreading the costs could be applied to customer specific enhancements. Those enhancements could be built back into the core COTS software, thereby, eliminating the risk of program obsolescence that is inherent with customized software.
Experience Low Cost Customization: Parallel 'economic' based development initiative by WoodPro Software Inc. is based on low cost software customization called Customer Prioritized Developments (CPD). CPD refers to the programs we develop in conjunction with our clients to address their specific requirements, but at the same time enhance our core product – without the expensive customization fees imposed by typical COTS software companies. Why should the customer have to bear all the costs and risks, when the enhancements could be built into the core product and shared with the existing and potential user base? CPD is sponsored by both our large and small customers, who want a competitive advantage, and are comfortable with their enhancements becoming 'commodity' software.
Superior Customer Ownership Experience
Independent consultants have concluded that WoodPro Software Inc. provides a superior customer ownership experience over our major competitors in the Lumber and Building Materials Industry because we offer the following:
Simplification in deployment, training, licensing, upgrading and support through a single solution from a single source.
More advanced and ubiquitous technological platform since it is based on a true Microsoft technologies solution, including operating system,database and programming language.
Productivity increase in employees as users can utilize their existing MS Office skills to adopt our system.
Superior ease of connectivity through a more flexible Microsoft technology platform.
More open and cost effective electronic data interchange and document management system.
Greater flexibility as a result of the technology platform and WoodPro's willingness to tailor the solution to the customer requirements.
Greater control, resiliency and flexibility with WoodPro's Lifetime Support Policy - free upgrades to any version.
Less costly licensing, implementation, training and support costs.
Quicker and easier implementations.
Customer Driven Development
We design our products based on input from clients like you. With our team of experts, we are able to enhance our software and deliver a complete solution that meets the needs of each enterprise--from systems analysis, data conversion, product usage training, to full-service support.
Best of Both Worlds
We're primarily interested in long-term relationships through repeat business, by providing our customers with a superior ownership experience. Our clients have been benefiting from our ability to deliver tailored solutions for over 30 years. We offer the best of both worlds - the advantages of low-cost Commercial Off the Shelf Software, with the capability advantages of an in-house development for the lowest Total Ownership Cost (TOC) in the Lumber and Building Materials software industry.
Comprehensive Core Package
The core package includes all the essential modules and features that a complete view of your business operations. Both back and front office processes are seamlessly coordinated within a single application. Information obtained from drill down capabilities, highly integrated modules and industry specific features enable closer collaboration within the different departments. Managers and executives are able to easily obtain an accurate view of the company's overall performance. In addition, the common user-interface of an integrated solution decreases processing time and cost, and allows consistent retrieval of data from multiple entry points. As a result, a complete solution from a single vendor, like WoodPro, translates into a rapid return on investment and a lower total cost of ownership.
Best Practices
We apply the knowledge and best practices gained from hundreds of projects to deliver time-tested, innovative uses of our application. You can be confident that our system will help you achieve more. Staff at all levels will be given the tools to standardize and streamline complex business processes; the ability to provide information, choice and control; the confidence, trust, and the speed necessary to adapt to the changing business environment
Implementation Methodology
WoodPro's powerful Lumber & Building Materials software application touches every part of your business—from sales, purchasing, manufacturing, warehousing to distribution. Below are some advantages regarding our implementation methodology.
Minimizes the risk of new business automation with the help of our application experts.
Improves the availability, security, performance, and management of your information through an application solution that is built on a proven technology stack.
Deploys powerful industry sector solutions developed by expert developers and proven by successful customer implementations.
Simplifies your implementation with repeatable, cost-controlled, out-of-the-box solutions.
Links industry best practices with your application deployment through WoodPro's consulting and project management expertise and proven methodologies.
Provides benefits from comprehensive training and information.
Connects your business challenges with WoodPro's Customer Prioritized Development team to influence and create new product functionalities.
Leverages WoodPro's partners relationships to extend your WoodPro implementation.
We use a customer-focused implementation process that involves six main phases.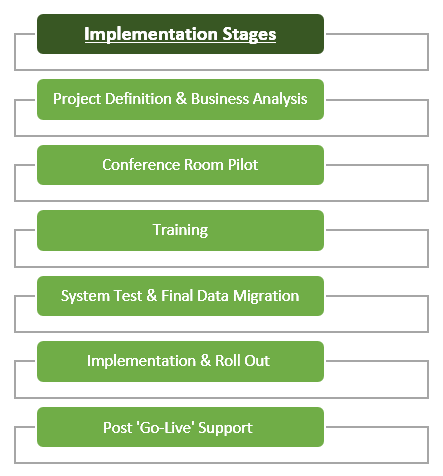 WoodPro Cloud ERP Advantages
WoodPro provides cloud-based hosting services through Ace and Microsoft Azure hosting. We can also work with your provider and assist with the setup. Below are some advantages of running WoodPro InSight ERP system in a cloud environment.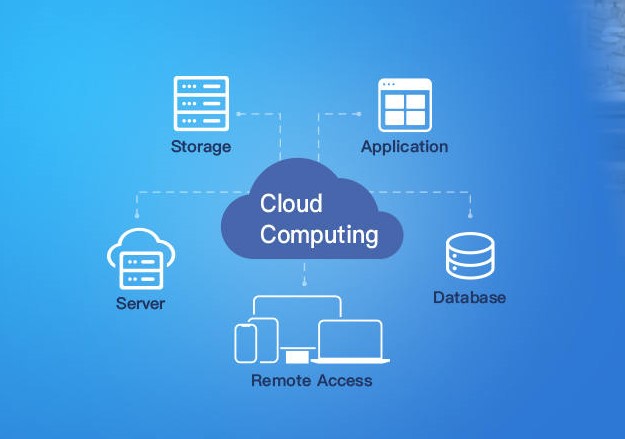 Reduce Operating Costs: Eliminate IT costs associated with on-site server hardware, applications, databases, and ongoing maintenance. Take advantage of the affordability and flexibility that a subscription to cloud services offers. As a result, reducing IT costs lowers operating expenses.
Real Time Information: Manage your sales, inventory, accounting, and production more effectively as employees can collaborate closely with real time data to make more informed decisions.
Business Growth: Easily scale the entire infrastructure to a size that best suits your company as business changes.
Security: Provides reliable security for businesses of all sizes. Your data is safe as the system tracks all activity. Monitoring, maintenance, updates, backups and restores are taken care of by the provider. Data is stored and synchronized across multiple sites.
Service Support: Support from our cloud experts can generally be done online, by phone or e-mail to address any concerns and issues that occur.
Pay As You Go (SaaS & Hosting)
As of November 2009, WoodPro Software Inc. has been offering different payment options to help companies move forward and transform their business to make it more efficient. You too can become a leaner company and start utilizing our system to build stronger relationships with you customers and vendors.
With options like "Pay As You Go" (ie. Software as a Service), Hosting, Cloud Based Solution, or Direct Purchase, WoodPro offers companies a wide range of options, making WoodPro InSight one of the most affordable cost of ownership with the Highest Return on Investment in today's tight market.
Call 800-755-2402 today to find out more.
Forms & Checks
Standard Forms
WoodPro offers free of charge, as part of the software implementation project, multi-part Standard Laser Forms. These are NOT pre-printed forms, but forms that are produced generically from the software, which can be printed, faxed or emailed directly from the application.
The following forms are included: Order Acknowledgments, Picking Tickets, Bill of Lading/Shipping Slips, Invoices, Customs Invoices, Pro-forma Invoices, Credit Return Authorizations, Credit Memos, Truck Booking Notifications, Purchase Orders, Vendor Returns, Re-man, Production and Assembly Work Orders – both Internal and External copies. For these forms, you can add your own logo, address details (by head office, location or branch), barcodes and boilerplate. Other features include the ability to determine whether or not to print your internal item codes on external documents, print the customer/supplier item code description on your documents, etc.
Standard Checks
WoodPro offers a variety of check styles, including Value, Premium, and Blank Check Stock.
The method of ordering preprinted checks is fairly simple and works perfectly for most businesses. Reordering them is even easier. However, there are certain times when printing checks on blank check stock just makes sense. Though using preprinted ones may seem easier, utilizing blank check stock actually gives you much more flexibility. There would be the options to print different account information, custom signatures, or change other information on the check as needed. Companies that need to have their signature on them can do so securely. This an especially helpful tool for when the signing party is away, or unable to sign them. Printing on blank check stock does require a specific type of ink, referred to as "MICR" Ink (Magnetic Ink Character Recognition), which is for the electronic processing and clearance of checks.
To order high security, custom premium, or value checks, please click here.
Customized Forms
WoodPro also offers custom forms and checks to meet your company's unique requirements at a rate of $75 per hour. The process of customizing forms takes time and money, so you may want to consider how much flexibility your company needs and how this will impact your implementation schedule and upgrades.
Training & Education
We are equipped to handle a variety of software training & educational needs:
Fast Track Training
Initial training of lead personnel responsible for developing the test environment by familiarizing them with the basic concepts in the software. This would include initial illustration of System Management and basic Master File usage, so they can set-up the test data.
Core Team Training
Lead personnel will be working extensively with the prototype / test environment. During this period, advanced training will be done in conjunction with the developing, testing, re-engineering and documenting all of the procedural concepts. Both functional and horizontal integration instructions will be carried out across all departments.
Classroom Training
Once a working template company has been developed, end-users will be taught in a classroom type environment by different functional areas (e.g. inventory). A maximum of 8-10 people per class is recommended. All personnel responsible for this area would come for a 1-day session.
Hand Holding & Ongoing Training
On-going training will continue through the implementation cycle. It is impossible for end-users to grasp the whole system in the classroom environment – practical hands-on experience, coupled with a guiding hand is the best teacher. The core team will be involved in helping end-users learn the system.
Future Training
Additional training can be arranged as needed.
Lumber & Building Products Software - Lifetime Support Guarantee
We work for you 24 hours each day to bring you the latest software functionality and support. As part of our Superior Customer Experience initiative, WoodPro Software Inc. offers the industry the first and only Lifetime Support Guarantee – free upgrades to all future releases of our products are included in the support contract.
Free Upgrade Policy
Our free upgrade policy puts you in control of your future. You'll enjoy continued peace of mind knowing that we will always be there to support your business. You always have the rights to major (or minor) product releases, so that you can benefit from new enhancements, WoodPro's technology leadership. Expect and demand reliable lifetime support, keep pace with the lumber business world, and take control over your technological future. With WoodPro's Lifetime Support Guarantee, you can expect the following:
Major product and technology releases
Technical support
Updates, fixes, and critical updates
Upgrade scripts
Third party products certified to work with WoodPro
Our lifetime support allows you to stay competitive, with the freedom to upgrade on your timetable. One of our goals is to develop a competency center within your organization, to ensure the finest support to your end users. No one knows your business like your own people.
1st Line Support (Internal)
Competency center within your organization
2nd Line Support (Help Desk)
Technical support agents who are qualified and trained
Telephone support through a dedicated "hotline"
On-line fault diagnosis through high speed internet connection
Our expertise in business and programming consulting service are available to help build effective solutions, while our knowledgeable and customer-oriented project managers are ready to work with you to help you deliver projects on time and within budget. Free upgrades and reliable technical support are available every step of the way to guide your employees and help ensure that your concerns are resolved quickly and efficiently.
Our promise of a Superior Ownership Experience
Now you can have greater peace of mind knowing that your business strategy is driving your upgrade strategy. You have more control, more resiliency, and more certainty.
It amounts to a Superior Ownership Experience--available only from the industry's most customer driven support offering--WoodPro's Lifetime Support Guarantee.